Clear Span
These marquees are built on an aluminium frame creating a clear space inside with no obstructions. This gives the freedom to use all the space and to have a free hand in designing the interiors. These structures have no guy line around the outside of the marquee therefore no wasted space at your venue.
Versatility
A clear span marquee will fit into a small garden, on a patio/terrace or in a courtyard. Different sizes can be put together to make use of the space available. Frames can be butted up to a building such as against patio doors, so the house extends into the garden.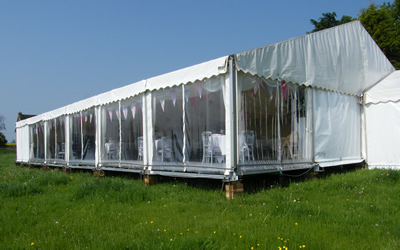 Hard Standing
A frame marquee can be erected on almost any surface: car park, gravel, concrete as well as on grass. The structures can be bolted or weighted down.
Raised Levelled Floors
If you thought you could not have a marquee because your garden/site sloped too much, then think again. We can build a floor that is perfectly level using a steel sub-frame with a wooden floor.
Winter Stability
Clear span structures have wind and snow loading safety tests. They are stable in extreme weather conditions and are the best marquees to hire in the winter.
Safety
All structures conform to British Safety Standards. The PVC fabric used to make the roofs and walls, trevera linings and seating fabrics conform to current fire retardancy ratings.